KANYE DID IT AGAIN! YEEZY TOOK HIS RANTS REAL-TIME!
SO BEFORE IMMA GET INTERRUPTED, IMMA PRESENT YA WITH THE KANYE WEST INTERRUPT BOOKMARKLET
DRAG THE BUTTON ABOVE TO UR BOOKMARK BAR (OR RIGHT-CLICK AND 'BOOKMARK/FAVORITE')…….. THEN CLICK IT TO MAKE YOUR WEB PAGE YEEZY INTERRUPTED.
AN EXAMPLE FOR THE FANS & HATERS……..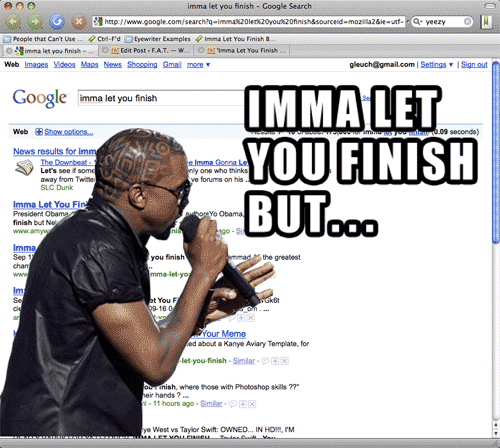 Idea by Greg Leuch, based on Tobi Leingruber's Kanye Vision bookmarklet. Speed Project: 20 minutes