Last week during FAT GOLD, I organized an alternate A/V stream called FAT Public Access on which I hosted a series of performances, talks, lectures, and informal chats broadcast live from Eyebeam's gallery space to the web. It's rare that FATLAB gets together in person, and I wanted to capture some of the energy & dialogue that pours forth when we do. I also wanted to use our show (and Eyebeam's equipment!) as a platform to present the work of artists, librarians, curators, musicians, researchers, and friends whose projects dovetail with the values and themes of FATLAB.
It was fun to play host whether facing an audience or just the reverb of the empty gallery space. While doing a public access show live meant I spent most of the week trapped at Eyebeam, it had the side effect of making lots of my friends come to me, so many many thanks to those that attended & performed. Hopefully this documentation is a window into the action for FAT members and international audience not in attendance.
Big thanks to Eyebeam staff, curator Lindsay Howard, and all the FATLAB homies.
If you can't hang with the real deal 4:3 flv video quality (#2013), I also have provided the audio separately for radio-style enjoyment. Click through for the full list!
4.2.13
Talking Fidonet w/ Kevin Driscoll

Kevin Driscoll joined us from Los Angeles via Skype to discuss Fidonet and other salient topics surrounding his dissertation Hobbyist inter-networking and the popular internet imaginary: Forgotten histories of networked personal computing, 1977-1997. We talk about looking at the 'people's history' of the web and communication technologies as a way to provide the backbone in arguments for user-driven infrastructure in today's conglomerated networks, duh!
Audio clip: Adobe Flash Player (version 9 or above) is required to play this audio clip. Download the latest version here. You also need to have JavaScript enabled in your browser.
Jamming with Critter & Guitari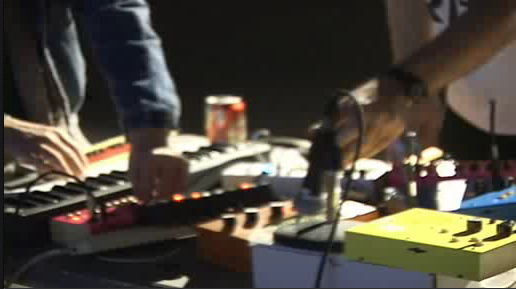 Brooklyn-based synth makers Critter & Guitari, nee Chris Kucinski & Owen Osborn, talk briefly about how they manage their fun project that turned into a business, and then jam profusely on Kaleidoloops, Bolsa Basses, Pocket Pianos and other #rare homemade junk, with some friends along for the ride.
Audio clip: Adobe Flash Player (version 9 or above) is required to play this audio clip. Download the latest version here. You also need to have JavaScript enabled in your browser.