On May 6, 2013 a small pro-weapons organization called Defense Distributed shared a useless plastic gun called "The Liberator", available for anyone to download and potentially harm themselves with. Assuming they have access to both ammunition and a very expensive 3d printer.
A few days and 100k+ downloads later, the US Department of State got scared enough to order Defense Distributed to take down the file. Enthusiasts promptly moved the file to a torrent, tracked by The Pirate Bay, making it harder to regulate and creating significantly more publicity. Pirate Bay users could only maintain interest for approximately 4 pages of comments.
Perhaps the file on The Pirate Bay wasn't the original? Perhaps someone made minor modifications to make it even more unusable than it already was? I had to wonder, and invited others to wonder with me.
The government's reaction, and most peoples' reaction to the Liberator, seemed primarily driven by fear. The fear of an undetectably lethal society, where forbidden objects can no longer be regulated. Where "society" itself breaks down, because access to 3d printers somehow tear up the social contract that keeps us at a distance from the objects that we can use to harm each other.
I believe that networked media, in its current form, can not be regulated to such a fine degree  as to deny access to specific files; and certainly not specific kinds of files. None of the regulations on physical goods can practically be applied to digital goods. The historical foundations of file sharing (music, movies, applications) have  demonstrated this, but forbidden physical items exacerbate the discrepancy. Soon, machines that print arbitrary chemical compounds or organisms with arbitrary genetic information will similarly challenge drug and biochemical warfare regulations.
When something is impossible to regulate, it makes more sense to focus on education and discussion than censorship.
In response to the Liberator, I borrowed an idea from "One coffee cup a day" by producing several absurd variations on the original file. Ideally, they should make people feel like there's nothing sacred or singular about "that 3d printed gun file" but that it's something that can be remixed, appropriated, redirected, repurposed. That it's not just "floating around out there", or in the hands of a few people, that's it's not something to be feared, but treated critically, carefully, humorously, seriously.
What is there to be afraid of when we're all in this together? When we all feel empowered, in control, able to participate in and guide culture? There is only fear when we feel disempowered, when we lack understanding,when we are censored, when we lack input or control and are instead being controlled.
Within F.A.T. there is significant disagreement about the right way we can engage with unregulated 3d printed weapons. Personally, I want to live in a society where no one owns or has an incentive to own a weapon, but there is also no stigma or fear about discussing them.
The Original

The Compensator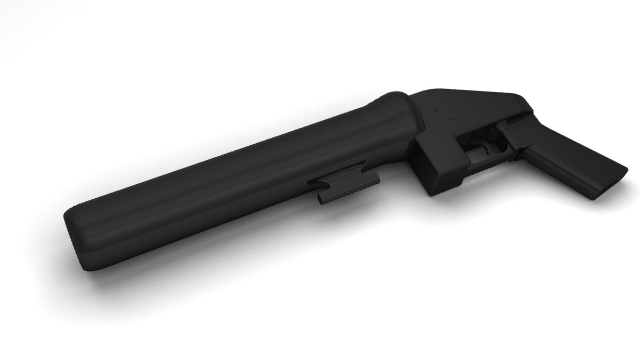 The Ember
The Englishman

The Half Measure

The Suicidal

The Redeemer

The Gamer

This project was executed on May 27th, 2013. PRISM was leaked a week later, and everyone forgot about Defense Distributed.