We present the design of an adjustable lasercut stencil pattern for pie-chart graffiti.
The pattern includes a complete set of re-arrangeable letters and numbers.
Changing the stencil's message and pie-chart percentage is straightforward.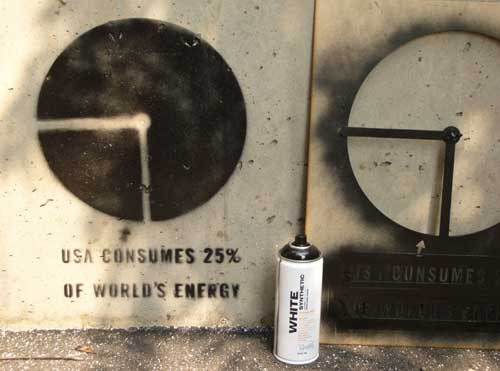 The stencil has a few noteworthy design features:
The letters are designed to be held in place with adhesive tape.
The pie chart pointer is held in place by an adjustable-tension bolt and wing-nut.
A small cutout arrow indicates which portion of the pie chart is described by your text.
The perimeter of the pie chart is etched with 100 tick-marks, making it easy to adjust.
The letters (a new stencilized version of Trade Gothic) preserve correct character widths and are provided in proportion to letter frequency (e.g. ETAOIN SHRDLU).
Here are the stencil designs (Illustrator CS4 .PDF format):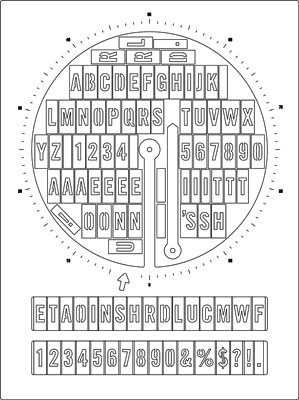 Complete fabrication info (including high-res photos) is available here. If you'd like to make one for yourself, you'll need:
1/8″ (3mm) thick sheet material, suitable for lasercutting. I used MDF, but acrylic is fine.
A one-inch 1/4″-20 bolt, wing-nut and suitable pair of washers.
Scotch tape or masking tape (to hold the letter in the stencil)
1 quart-capacity Ziploc bag (for storing the letters)
Spray paint
A laser cutter!
Acknowledgements
This four-hour Speed Project was developed by Golan Levin with support from the STUDIO for Creative Inquiry. Thanks to Asa Foster III for production assistance.