[ Version française ici! , Docu below]
The SPEED SHOW series is coming to Paris! It'll be awesome! We will rock the place and on top we'll kill the night with a F.A.T. lab after party at Le dune! Spread the news! Bring all your friends! Book your flight today!
SPEED SHOW vol.5: 'Open Internet'
Welat Internetcafe
12 Rue d'Enghien, Paris (G-map)
13th January  2011
7:00-11:00 PM

F.A.T. lab after party at
Le dune cafe http://www.ledune.fr
18 avenue claude vellefaux, Paris


Curated and produced by:
Aram Bartholl, Marie Lechner & Anne Roquigny
Participating artists:
Anonymous, Jean-Baptiste Bayle, Christophe Bruno & Samuel Tronçon, Claude Closky, Marika Dermineur, Caroline Delieutraz, Constant Dullaart, JODI, Jérôme Joy, Tobias Leingruber, Aymeric Mansoux & Dave Griffiths & Marloes de Valk, Albertine Meunier, Geraldine Juarez feat. M.I.A., Evan Roth, Systaime, VideOdrome mailing list, La Quadrature du Net (Jérémie Zimmermann)
Open Internet
2010 showed the full scale beauty of open Internet culture. Governments and industrial lobbies are trying more than ever to establish new regulations and tools to control the net. The Internet must stay open and neutral! Avoid being shut down by government and make sure your (online-) life or business is not dependant on a single large company or governmental restrictions. It is important to keep rethinking net structures to escape from the mainstream social vortex which is incapable of reflecting on itself. Internet art and net subcultures play an important role in questioning and deconstructing everyday web defaultism and global, digital industries.
We are very pleased to present an exquisite selection of internationally-known artists at SPEED SHOW vol.5 'Open Internet' – Paris. A wide range of brand new art works created especially for 'Open Internet' discuss the current impact of Internet pop culture, open source, minimal amateur and radical options of the Open Internet. A combination of excellent Paris-based, internationally-know artists and restless Open Internet advocates form the perfect base for a promising opening night at the awesome Welat cyber cafe Paris.
Aram Bartholl 2011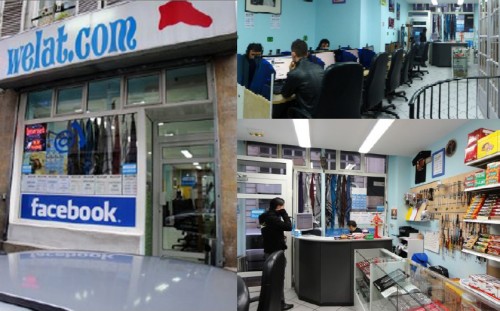 All prior Speed Shows documented here fffff.at/speed-show
The SPEED SHOW exhibition format:
Hit an Internet-cafe, rent all computers they have and run a show on them for one night. All art works of the participating artists need to be on-line (not necessarily public) and are shown in a typical browser with standard plug-ins. Performance and life pieces may also use pre-installed communication programs (instant messaging, VOIP, video chat etc). Custom software (except browser add-ons) or off-line files are not permitted. Any creative physical modification to Internet cafe itself is not allowed. The show is public and takes place during normal opening hours of the Internet cafe/shop. All visitors are welcome to join the opening, enjoy the art (and to check their email.)
SPEED SHOW manifest by Aram Bartholl 2010
'
---
Update:
---
SPEED SHOW vol.5: 'Open Internet' last thursday in Paris was sick!
Thx to everyone! Thx to all the artists! Thx to Anne Roquigny and Marie Lechner for invitation and collaboration!!! Love Paris! ( I'll be back in may giving a talk at promising Gaite Lyrique!)
Full program and all links below!
SPEED SHOW vol.5:'Open Internet' – Paris from aram bartholl on Vimeo.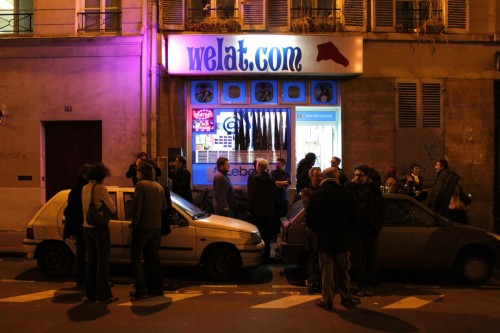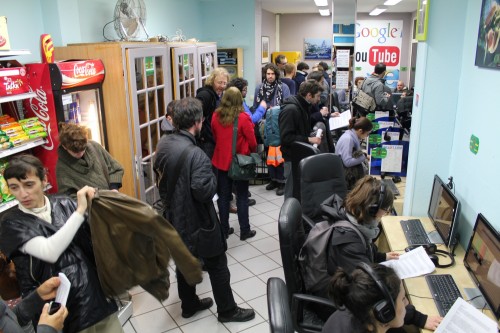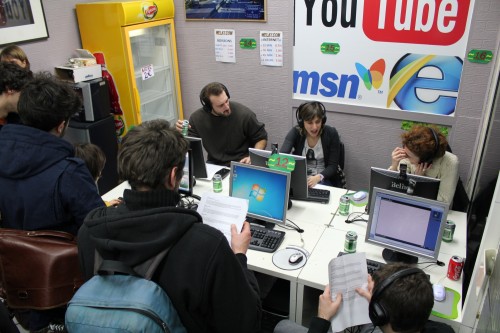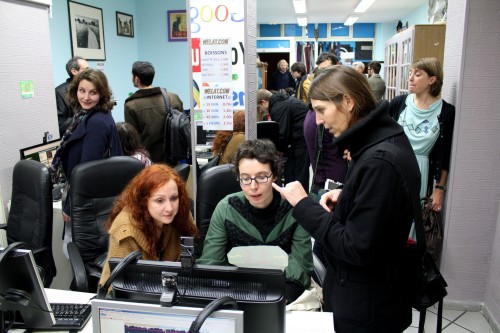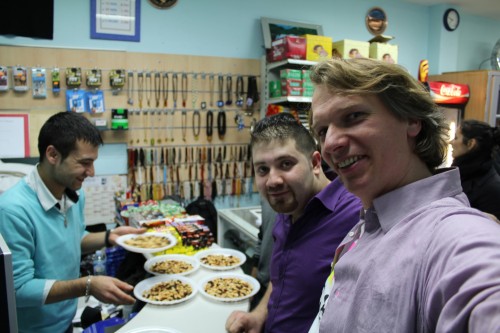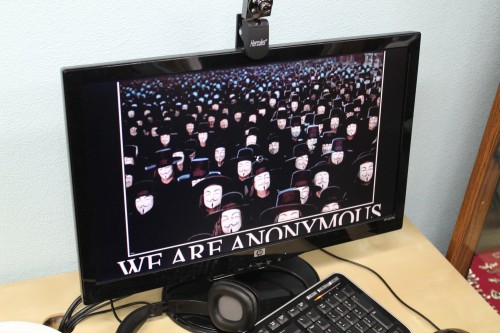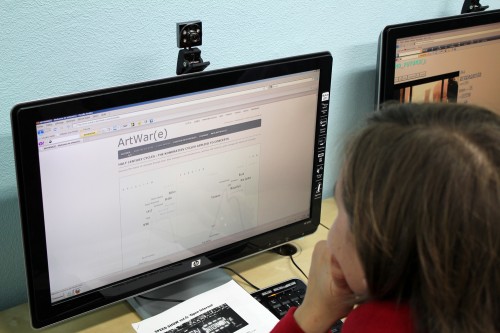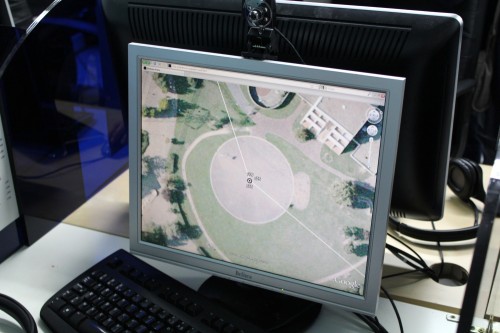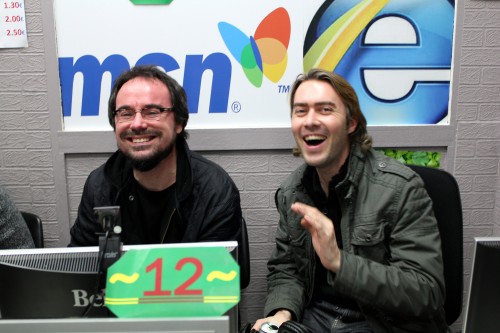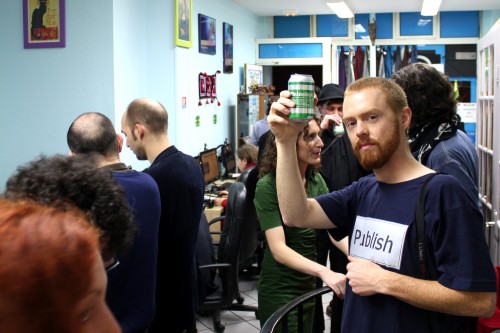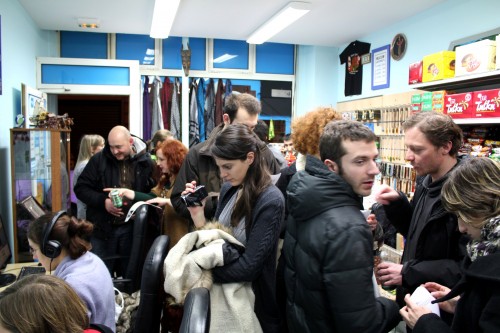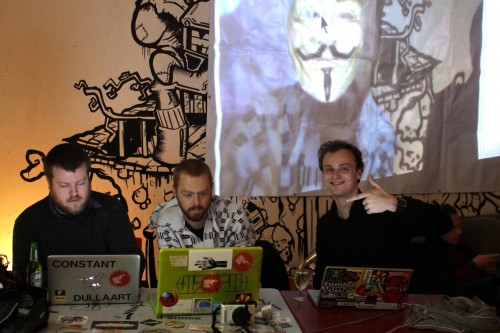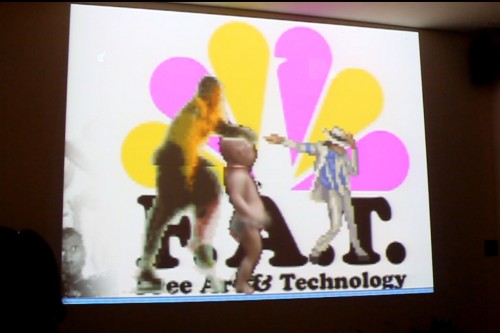 Participating artists :
OPERATION BLING
Anonymous
2011
Anonymous is a label adopted by anarchistic amalgamations of hacktivists and 4chan users who undertake protests and other actions under the notional title "Anonymous," It is generally considered to be a blanket term for members of certain Internet subcultures. OPERATION BLING is a call to protest against censorship by Governments and global players in regard to the recent events realted to Wikileaks etc. "Write down 'You are anonymous!' on all you paper money and let the system do the work!'
No Future
Jean-Baptiste Bayle
2010
NO FUTURE ! NO LIFE ! FUCK CYBORGS ! FUCK GOOGLE ! FUCK 3D ! DEATH TO RAY KURZWEIL ! WE ARE THE CHIMPS ! MEDIUM IS NO MESSAGE ! NOFUTURE IS NOW !
"NF was born in 2010, 10 years after the future, 100 years after futurism. In a world where apathy, corruption, and reinforced property rights give shape and substance to the widespread sacking of fundamental human rights, no-futurism seeks to foster a new radicalism, capable of resisting the « technological bluff ». NF uses a collection of television news clips (http://www.nofuture.biz ), a twitter "nonitoring" journal (http://paper.li/n0_futur3), and a critical cartography of « decolonized counter-imagination, » to deconstruct the disinformation techniques and the propaganda spectacle.
Jean Baptiste Bayle is an artist, a inactivist and an bricodeur. He opposes the concept of "downgrade" to the permanent "upgrade" which fuels the digital economy, in an attempt to resist the madness of useless technology, to think imagine an alternative to ownership systems, and, by sharing free knowledge, to build the future collectively.
ArtWar(e)
Christophe Bruno et Samuel Tronçon
2010
Artwar(e) is an « artistic risk management » platform whose aim is to use the latest marketing concepts, such as the "hype cycle," to reformulate art history, performance and relational attitudes, as well as curating practices.
Christophe Bruno offers a critical approach to network and globalization phenomena in the realms of language and image. He has been awarded for the Google Adwords Happening (at Ars Electronica) and for Human Browser. Starting in March 2011, he will work as chief curator for the Jeu de Paume's virtual space.