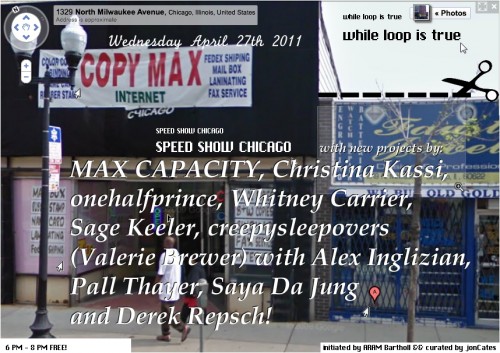 !!!ANNOUNCING:
SPEED SHOW CHICAGO: "while loop is true"
http://on.fb.me/dFsKG6
WITH NEW PROJECTS BY: MAX CAPACITY, Christina Kassi, onehalfprince, Whitney Carrier, Sage Keeler, creepysleepovers (Valerie Brewer) with Alex Inglizian, Pall Thayer, Saya Da Jung and Derek Repsch!
Wednesday April 27th 2011
6 PM – 8 PM
FREE!
'
@
COPYMAX
1321 N Milwaukee Ave
Chicago IL
60622
'
Berlin-based artist/curator ARAM Bartholl initiated an ongoing series of exhibitions of New Media, Digital + web-based art called SPEED SHOWS. starting in the summer of 2010, SPEED SHOWS have been held in Berlin, Vienna, Amsterdam, Paris, NYC + now Chicago! Chicago's SPEED SHOW is curated by jonCates:
https://fffff.at/speed-show/
SEE YOU THERE!!!