[=TC=] Infomercial TV Spot from TORTURECLASSICS on Vimeo.
Ubermorgen and James Powderly open source the secrect techniques and blockbuster hits behind musical torture and other forms of "enhanced" interrogation LIVE at 10am GMT/5am EST/6pm local time at GCC in Daebu-do, South Korea. Watch it LIVE as Powderly listens to on loop for 24hrs straight and DOWNLOAD all the TORTURE CLASSICS hits on the torturenetz
TIME LIFE announces the release of the TORTURE CLASSICS COLLECTION. Torture Music is the kind of music that's perfect for sitting in the Afghan or Iraqi Desert, sharing a prisoner for a night, or relaxing in a military barack or a CIA black site in some godforsaken country on a lazy afternoon. It's music that just makes you feel free and drives others crazy. But, the artists included in the TORTURE CLASSICS COLLECTION have taken the Torture Music sound and given it a psychotic and everlasting quality. This Torture Music compilation includes 60 songs, tons of images, uncensored videos, pdfs and extra bonus material. The Ultiimate Collection DOWNLOAD-DVD inlcudes both The White Site Album and The Black Site Album.
To kick-off of the release of the TORTURE CLASSICS ULTIMATE COLLECTION DOWNLOAD-DVD, a 24h TORTURE-GALA-PERFORMANCE will take place. The headlining act of the evening will be James Powderly, who will be subjected to Musical Torture and other forms of "enhanced" interrogation, in the experienced hands of Hans Bernhard, who will blast Justin Bieber's "Baby" and the new hit track "Two Different Tears" by the original K-pop Idols the Wonder Girls for 24hrs straight. He will be tightened into a various stress- positions to prevent him from muting the sound. This showcased event will take place in a cell at Gyeonggi Creation Center Facilities in Daebudo – an island off the western coast of South Korea, formerly used by the Japanese to torture Korean orphans. This event will be streamed LIVE here.
For more info go to TORTURECLASSICS.COM or download the TORTURE CLASSICS press release.
Powderly at Daebu-do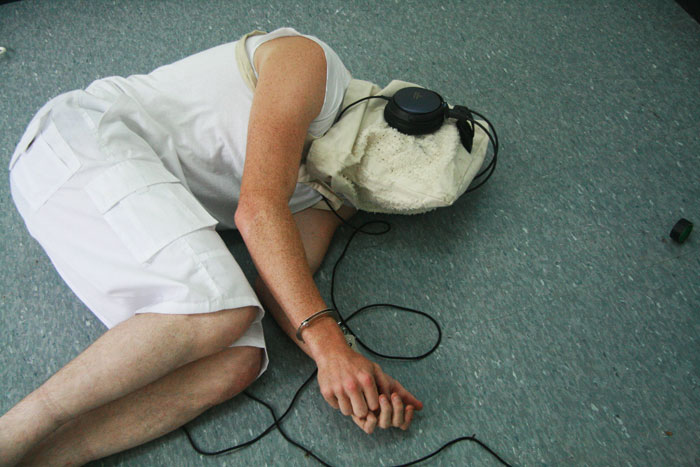 THANKS TO:
Wendy (aka Wendelin P. Teister), Hyesoo Yoon, Jaewon Choi, Hongik University, GCC Gyeonggi Creation Center, Pro Helvetia, Bundesministerium fuer Unterricht, Kunst und Kultur BM:UKK Austria, Dr. Shird Kaukasian, Kim Yuna, Lotte, RIAA, Breitling, Korean Air, Seoul Mayor Oh Se-hoon, Royal Caribbean