Naoyoshi Hikosaka, contemporary artist, decided to put together a show called the Free Art Exhibition so I decided to participate.
The exhibiting art works must be free to give away.
It wasn't easy to think of free art using the old technology which can not be digitally copied. As a proud member of Tokyo F.A.T., I wanted to create something symbolic!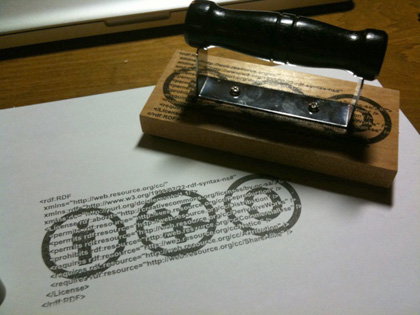 So here is what I did. First I designed a symbol with CC license marks and its meta data (see SVG data here), pressed it on 15 real bills, and of course signed my name on each of them. In a way, copy-lefted the bills. I own the author's copyright of the bills and at the same time they are completely free!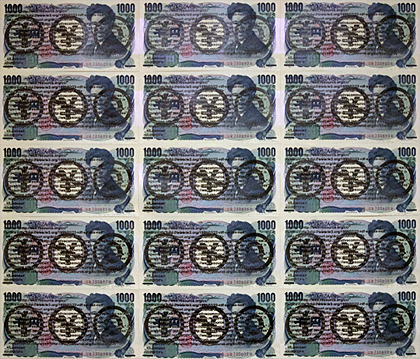 I completed the work by lightly gluing the bills on a canvas.
Anybody can take it and leave. I also exhibited the stamp it self so that anybody can stamp it on his money or on himself.
If you want to make your own money in your own country, the idea is for free.
The Exhibition is until the 22th of August.
"15 Pieces of Papers Under Creative Commons License"
by Seiji Ueoka, F.A.T. Tokyo
2010