My cats, Io and Milo, have the standard cat toys. You know like mice and uh… mice. They get enough mice at home since we live above a bakery. I decided to quickly whip up some cat toys of things they like to play with. I started with yarn (Io loves to destroy it) and Milo (Io loves to attack him).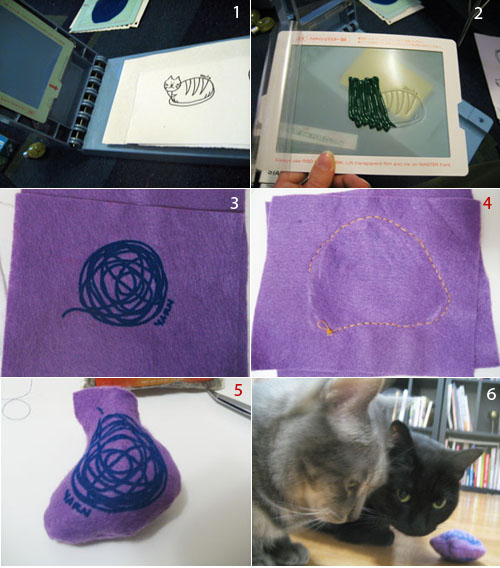 Steps:
1. Draw an image. Photocopy it. Make a screen using your handy Gocco or other screen printing tools.
2. Ink the screen to make screen prints.
3. Print the custom cat toy image on felt.
4. Sew around the image. I actually hand basted around the shape and then machine sewed it. Leave an opening to turn it right side out.
5. Turn it right side out. Wasn't the opening helpful? Stuff the toy with fiberfill and add some catnip for cat enjoyment. Hand stitch the opening closed.
6. Watch your cats' enjoyment of their custom cat toy.
Any suggestions for more custom cat toys? I was thinking about bras and cockroaches, which are two other things my cats enjoy.