What to do when you just brought down the house, even if you're the only who sees it that way? Take it from Randy Jackson and drop the mic like it's hotter than the 4/5/6 platform at Union Square in mid-July at rush hour, of course.
In other words, since when does a tri-borough rail transit proposal go, in under a year, from a sketch on paper to a full slide in the annual public address given by the president of the MTA?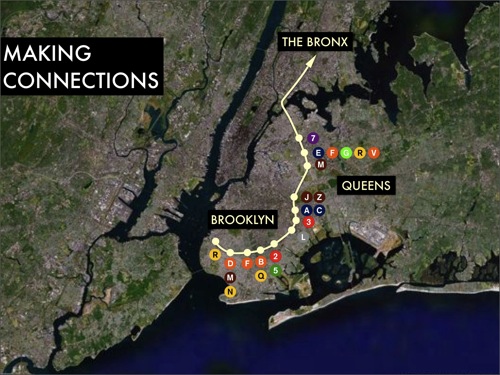 Of course the initial idea was the product of someone else's brilliance (go Zupan, it's ya birthday), but as my main man George W always says, it's all about the execution. At the Regional Plan Association, we developed a demand model for the "Triboro Rx" based on census data and knowledge of the subway network which showed surprisingly heavy latent demand for such a line.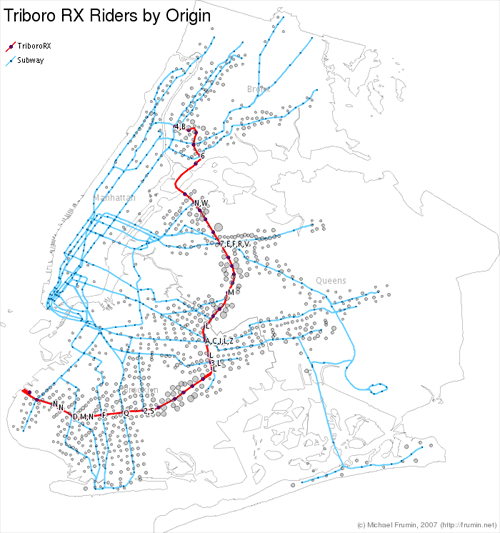 It should come as no surprise, given the radical nature of all posters and readers of this site, that said model was implemented with open source software and open information, soup to nuts. Spatial databases, web enabled mapping, hacked together network-routing Perl scripts, you name it. Of course, the results weren't published in any fancy four-color booklet; they're on the web for anyone to see, executives and planners at the MTA included.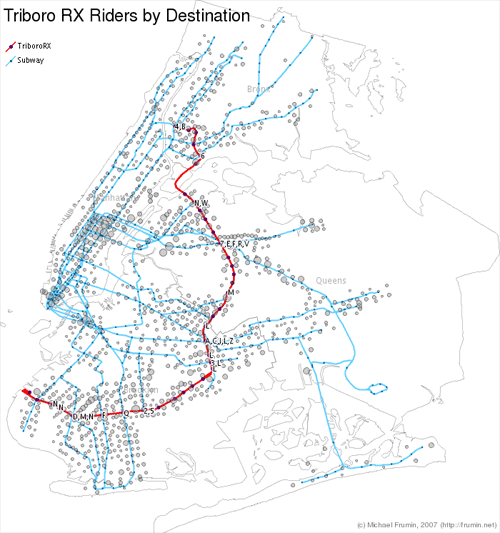 What does any of this have to do with this web site, which usually slays municipal bureaucracy with high powered lasers? Don't think for a sec that FAT wasn't involved in all of the on-the-ground research.
There's more legwork that needs to be done, mostly in the prince of Zamunda's favorite of the 5 Boroughs (Queens!), so lemme know if you are down to do do some exploring. I swear you will find a ridiculously good Greek restaurant at the end of the golden railroad tracks.
While we're on the topic of Brooklyn->Queens->Bronx Triboro action, don't forget to peep this track that I recently found on my archives of Stretch & Bobbito on WKCR from early 1994. Biggie, Nas, and KRS on this freestyle that can only be called "Triboro Connection."
And on that note, I'm out. Give it up for sexual chocolate!