On my way to the Netherlands last Wednesday (for the 'Shadow Dance' group show in Amersfoort) I decided in the last minute  to set up a SPEED SHOW on short notice in Amsterdam for the following day. At the end of the 6h train ride I had all artist emailed and confirmed, speed curated!
Constant Dullaart picked a great Internet-shop remotely via Google Streetview (oh man, we need that in DE finally too!), Peter Luining checked it out and fetched me a phone number. Thx for support! I called the guy the night before and all was set. Since the shop doesn't sell anything else than voice and internet we had to bring our own drinks. :-)Â  (which he was cool with. Is that possible in NYC?!?)
Although the show was anounnced only one night in advance we had a fine crowd of visitors and lot's of rain (which made everyone look at the art ;-). Thx to all for showing up on short notice! Thx to the artists! Thx to the 'A.Internetcafe'-team!
Aram Bartholl 2010
All prior SPEED SHOWS documented here!
Press / Blog posts: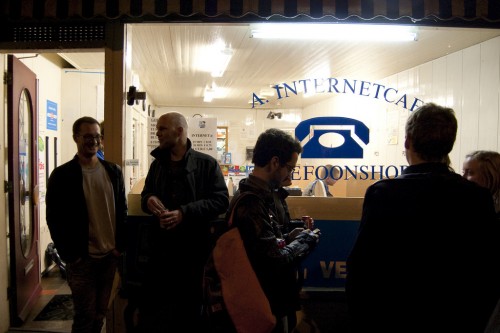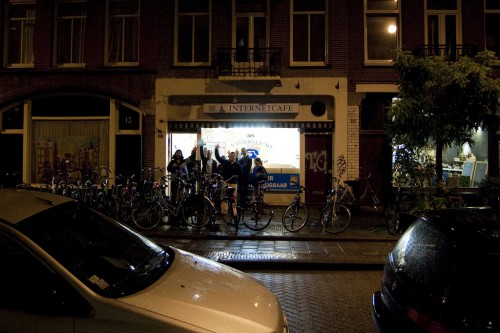 All pics on flickr. More pics by Anne Helmond, thx!
SPEED SHOW vol.3: Peace!
One night group show and part of an ongoing series of SPEED SHOWS.
Thursday, 16th of September 2010
Opening 7:00 – 10:00 pm
at 'A.Internetcafe'
Tweede van der Helststraat 15
Amsterdam (G-maps http://bit.ly/cTeJS6 )
Produced and curated by Aram Bartholl
Participating artists:
the revolving internet
css,iframe , http://therevolvinginternet.com/
Constant Dullaart
2010
Cache Rules Everything Around Me
animated gif mashup, video, http://vimeo.com/14782834
Evan Roth
2010
GuthrieLonergan.com
flash, http://www.guthrielonergan.com/
Guthrie Lonergan
2008
Blue Monochrome
Google Maps, http://www.bluemonochrome.com/
Jan Robert Leegte
2008
FolkSomy VJ
Youtube, http://www.folksomy.net/ytct
JODI
2010
Arcade Hustla YouTube Channel
Youtube, http://www.youtube.com/user/ArcadeHustla
Jon Rafman
2009
obsolete
jpgs, http://obsolete.ctrlaltdel.org/
Peter Luining
2008-10
INTOTIME.COM
flash, http://www.intotime.com/
Rafaël Rozendaal
2010
Peace on the World
jpgs, http://picasaweb.google.com/TimurSiqin/PEACE
Timur Si-Qin
Torture Classics
Video http://tortureclassics.com
UBERMORGEN.COM & James Powderly
2010
Curated by Aram Bartholl