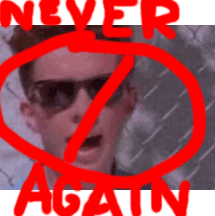 Have you or someone you love been rickroll'd? If not, check out this hot Lindsay Lohan vid.
presenting the #1 weapon in the war on Rickrolls:
THE RICKROLL DATABASE
When used in conjunction with Firefox and AdBlockPlus you will never get rickroll'd again. User-vetted URLs comprise a dynamic AdBlock filter list of all known rolls, aka…
THE RICKLIST: >> subscribe now
Submit URLs for known rickrolls; other anti-rickrollers can confirm or deny its rollitude. Crowdsourcing baby. Crowdsourcing.