So Google freaked out because the public in Sweden integrate to their language the term "ogooglebar", which means ungoogable. SprÃ¥krÃ¥det (The Language Council) included "ogooglebar" in the yearly list of new words …and Googleâ"¢ pressured legally and demanded the word to be defined as the state of not being able to find search results in Googleâ"¢, rather than any search engine.   They also asked for include a note specifying that Googleâ"¢ is a trademark in the Council's website.
SprÃ¥kradet deleted from the list the new word and published a great post bashing the company Googleâ"¢ for their "attempt to control language".
Just a mere casualty, but i finished today one of my swedish language courses at SFI…. it went great. Long story short, one of the first things i learned is that anka means duck, as in DuckDuckGo <3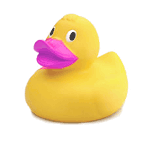 OOOOOANKABAR
Drag bookmarklet to your bookmarks bar.
Test it at http://www.ogooglebar.se/
Svenska sidan här!