For the 2010 Cinekid festival we took the GML loving RoboTagger one step further by directly connecting it to the new and improved Eyewriter 2.0 system, allowing children visiting the festival to write their name with their eyes and have it drawn by a giant, bright orange robot arm onto paper which they could take home with them.
The system allowed them to both draw with their eyes and type with a keyboard. The keyboard was by far the most popular with the kids and it would send the letters they made to the robot using a typeface designed by paralysed graffiti artist Tempt1, made with the original Eyewriter system.
Here is the full alphabet of Tempt1's typeface ( grab a gml version ). Notice the EW signature in the corner :)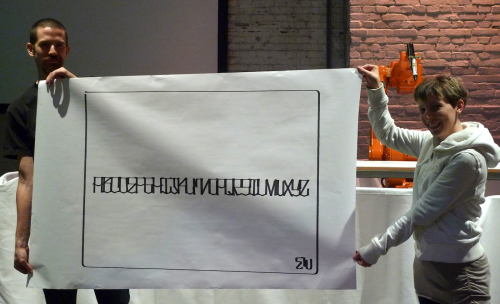 This is the Eyewriter 2.0 hardware. Now a glasses free design which is more more accurate, using a hacked PS3 Eye camera with two external LED clusters to make reference glints in the eye.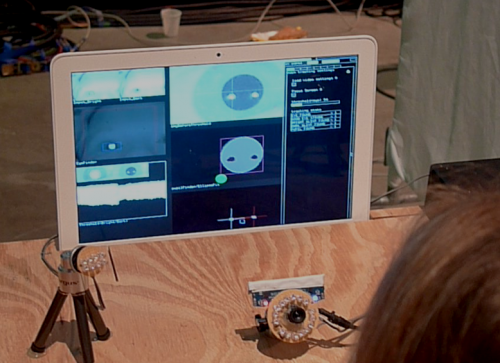 Open Source:
Both the Eyewriter code and the Livewriter code are open source projects, made with openFrameworks. You can follow them on Github: Eyewriter Main Repo and Cinekid Livewriter Repo.
Credits:
Livewriter @ Cinekid:
Theo Watson, Golan Levin and Gijs Van Wee, Jan Van Laar ( Polynorm )
Based on the GML Robotagger by Golan Levin and Evan Roth
Eyewriter 2.0 Crew:
Zachary Lieberman, Ito Takayuki, Golan Levin, Kyle McDonald
Eyewriter Team:
Tempt1, Evan Roth, Chris Sugrue, Zachary Lieberman, Theo Watson and James Powderly.
Big thanks to:
Clint Beharry, Rui pereira, Lucas Werthein, Paul Ferragut, The Eyewriter Collab, Parsons The New School For Design, ABB and Polynorm.
Extras Special Thanks to Joost Broersen from Cinekid for making this happen!
Big thanks to Gijs Van Wee and Jan Van Laar from Polynorm who designed the hardware and software for the Livewriter and a big thanks to ABB for supplying us with the robot. Also big thanks to Golan for sharing his robot code and for inspiring the project!
Here is Jan making some late night additions to the robot.

Gijs admiring his spring loaded marker pressure system, designed to give a conistant pressure to the marker.

Made with openFrameworks :)

The EyeWriter project is an ongoing collaborative research effort to empower people who are suffering from ALS with creative technologies. It is a low-cost eye-tracking apparatus & custom software that allows graffiti writers and artists with paralysis resulting from Amyotrophic lateral sclerosis to draw using only their eyes.
To find out more about the Eyewriter project vist the main Eyewriter site: http://www.eyewriter.org/