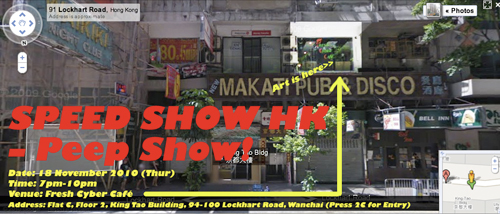 SPEED SHOW – Peep Show!
Has the Computer Become the Contemporary Peep Box?
Date: 18 November 2010 (Thur)
Time: 7pm-10pm
Venue: Fresh Cyber Café
Address: Flat C, Floor 2, King Tao Building, 94-100 Lockhart Road, Wanchai (Press 2C for Entry)
Participating Artists:
Candy Factory (Japan)
Cory Arcangel (USA)
Rafael Rozendaal (Netherland)
Evan Roth (France)
Yangachi (Korea)
James Powderly (Korea)
MAP Office (Hong Kong SAR)
Shiro Masuyama (Germany)
Yu Araki (Japan)
Hang Feng (China)
Adam Enfroy (USA)
Zhou Xiaohu (China)
Manolis Perrakis (Hong Kong)
The peep box has its origins in the 15th century European invention of a box for viewing pictures through a peephole. It was most often used as a means of showing a series of explicit photographs. As a machine to peep through a small hole at a series of sexually explicit images, it spreads throughout the world.
Around the start of the 20th century the peep box began to disappear, as this space of voyeuristic desire shifted to the cinema hall. Today, however, the Internet appears to be an optimal contemporary medium for satisfying voyeuristic desires.
According to Freud, there are two types of scopophiliac: the voyeur, who revels in private act of seeing, and the exhibitionist, who pursues the public act of being seen. Through applications like Facebook, Youtube, blogs and twitter, 21st Century Internet interfaces seek to satisfy both of these impulses: not only the desire to watch, but also the desire to be watched. Moreover, for the voyeur, the Internet renews the possibility of viewing in complete privacy. Opportunities for use have also expanded. One can easily "peep" using a mobile phone during free time at work, in the park, or while riding the train. Finally, the amount of available content has increased dramatically with the turn to the Internet. The entertainment offered by television or film is presented in a fixed format with polished productions standards. In contrast, the rawness of Internet communication provides its own voyeurstic delights – the seeming ability to spy on the world more directly.
Exploring these new horizons of digital voyeurism, Peep Show contains a range of online art works by contemporary artists exploring 21st century voyeurism and scopophilia from both aesthetic and political perspectives. (Hitomi Hasegawa)
full text: http://www.no-w-here.org.uk/frame/index.php?m=pdetail&id=1&focus=statement&l=
English translation: Paul Roquet
Jointly presented by Videotage + MIACA
Thanks to: Takuro Someya contemporary Art Tokyo, Long March Space Shanghai