Happy belated Holidays from FATLAB. Instead of some shitty gift certificate, we come bearing the gift of (free) music!
Before a certain someone wins a Grammy thanks to YouTube, we'd like to share some of our new favorites from 2007 – not necessarily (and in most cases not at all) music that came out this past year, but just the jams we pumped the hardest in the last 12 months.
(note: some of the .zip files come with album art – if not just grab the images from this post)
Without further ado, here are
+ FAVORITES OF 2007 mixes from FFFFF.AT/people +
Bennett


The synthesizer has been back in a big way since all the kids got into electroclash a few years back, but Bennett seems stuck staring farther back in the calendar, somewhere around 77-88. A time of strange bedfellows, when funk bands were trying to make rap records, disco got cross pollinated with everything and vocoders ruled the land. The beats were funky enough that one would 'set it off' only to find that they had been 'just chillin'out' the whole time. Jams bit too thoughtful (and a bit too slow) for the dance floor, this mix is a child of careful reading of producer credits on 12″ records, and maintaining a solid Oink ratio. A few slow jams at the end for your lady, who's gonna be like "who does this song?"
2woThos&$3vn<– download .zip (70 MB, 13 tracks)
feat. Roy Ayers, Baron Zen, Charlie, Gucci Crew, 'Nard, Jazzy Jay, Javelin, and Moondog.
$$$$$$$$$$$$$$$$$$$$$$$$$$$$$$$$$$$$$$$$$$$$$$$$$$$$$$$$$$$$$$$$$$$$$$
Powderly

Dangerous music from Powderly. Gunpowderly. This is that dude who keeps his iPod on long after the tray tables and seat backs are in their upright and locked positions for landing at an undisclosed location in the Axis of Evil. This year's installment delves into the origin story hidden in this fffffatty's Tennessee roots, and answers wardrobe questions like why all the black clothes and stunna shades at night? Will it be death or glory in 2008 for our hero? Stay tuned!
Powder Mix 2007<– download .zip (74 MB, 17 tracks)
feat. Survivor, Lazy Muthafucka, Johnny Ca$h, Bowie, The Clash, Ja'afar Hassan, and Dolly Parton.
$$$$$$$$$$$$$$$$$$$$$$$$$$$$$$$$$$$$$$$$$$$$$$$$$$$$$$$$$$$$$$$$$$$$$$
Steve


Did you drop the ball on reading Soul Sides this year? Slambert grabs the baton from super blogger and fellow UC Davis graduate O-Dub, and lays down a meaty slab of selection. Tunes old and new, these are songs of conviction, love and other firm beliefs, the next coming of jah, and mean, mean horn sections. You know that generic radio station in your hometown that claimed to be the "#1 choice for blazin' hip-hop and R&B?" This mixtape would instead be broadcasting from the funky space station that makes you realize your soul has no choice whatsoever – you just gotta feel.
Ol' Slambert's Tremedous Jamz 2007<– download .zip (171 MB, 31 tracks)
feat. Bob James, the Coup, Grant Green, Antibalas, Sharon Jones & the Dap Kings, Lorez Alexandria, Hall & Oates, and the El Michaels Affair.
steve sez:
"P.S. apologies, this year I got all OCD on covers of "bridge over troubled water." I only put in the elvis version 'cause it's from when he was super fffffat."
$$$$$$$$$$$$$$$$$$$$$$$$$$$$$$$$$$$$$$$$$$$$$$$$$$$$$$$$$$$$$$$$$$$$$$
Evan


If the son of Allah spent as much time answering emails and listening to rap as my man Ev did this year, his best-of mix might have sounded similar. But you're more likely to find Evan lavishing his praise on a different Jay-Hova. This comp includes big bumps that cranked and walked their way to meme status this year, alongside a couple classics, and gems from the remix barons who share Evan's love of copyright violation. Jet-setter that he is, Evan fills in the cracks with cuts from Hong Kong, the Autobahn, South London, the Nation of Thizz, and The People's Republic of YouTube.
WWJDJ?<– download .zip (86 MB, 23 tracks)
(stream it –> here)
feat. Jay-Z, Three 6 Mafia, Soulja Boy, Girl Talk, Biggie, MC Yan, and The Pack.
$$$$$$$$$$$$$$$$$$$$$$$$$$$$$$$$$$$$$$$$$$$$$$$$$$$$$$$$$$$$$$$$$$$$$$
Borna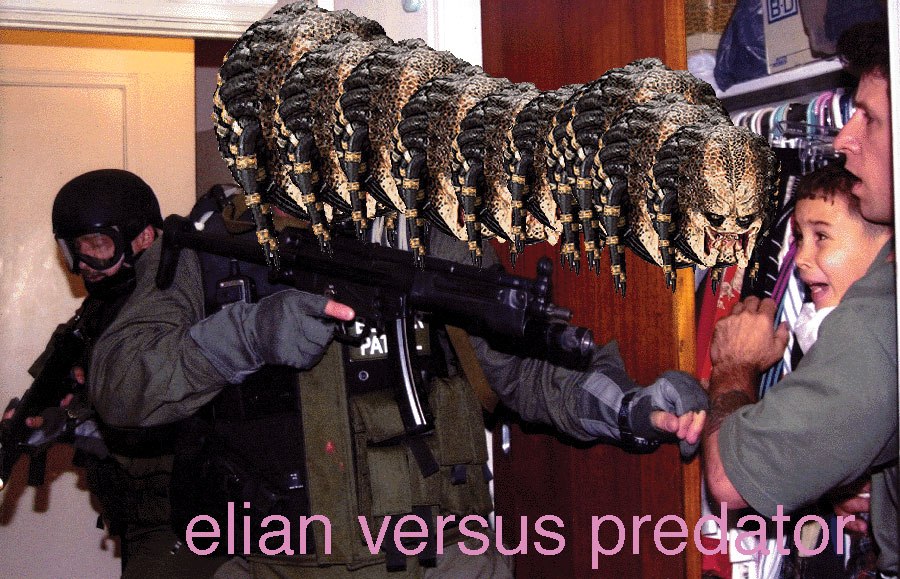 Do you think the internet is a place for funny rap songs and silly dancing cartoons?
CAUSE ITS FUCKING NOT.
Like the rest of us, Borna does listen to rap sometimes. I've seen him do it. But Borna knows hardcore and metal better than any of the other FFFFFAT FFFFFUCKS on this jawn, and you are about to get educated. Now you know what's keeping Borna awake when you notice that he's posting del.icio.us bookmarks at 5am on a weeknight. Riffs/screaming from the laziest man that everybody knows.
ELIAN VS. PREDATOR<— download .zip (116 MB, 18 tracks)
feat. Cryptopsy, The Minor Times, Lords, 100 Demons, Mind Eraser, and Young Widows.
$$$$$$$$$$$$$$$$$$$$$$$$$$$$$$$$$$$$$$$$$$$$$$$$$$$$$$$$$$$$$$$$$$$$$$
shouts to the internets/blogs for all the free tunes and music know-how. My highlights from 2k7:
nation of thizzlam
soul sides
javelin
konstant kontakt
See you next year!
R.I.P. OINK + PIMP C.