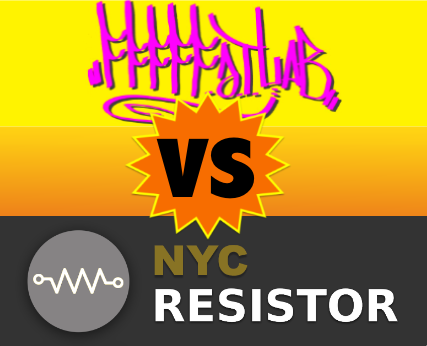 Saddle up ffffatties, the hackers of NYC Resistor have challenged us to a one month Internet fame-off and it's on. They don't know who they're messing with!
Feb 15th – March 15th — website hits, YouTube views, Twitter followers, Facebook fans, RSS subscribers… whoever posts the biggest gains wins. Grading will be conducted by Internet Famous Class technology.
Official war page w/ preliminary stats is available here.
Join up with the FAT Army and help us go big:
* sign up for our new Facebook group
* follow twitter.com/fffffat to receive frontline dispatches (also Tobi, Aram, Becky, and myself)
* prepare to have your face melted by an amazing slew of new projects this month from the FAT
* tell your friends
It's go time baby! Scheme in the comments
I, like many of my generation, spent a fair percentage of my youth firing foam darts at my older brother . We used to throw our Ninja Turtles against the wall until they broke and then re-arrange the body parts, but somehow we never thought to take apart our NERF guns to enhance their speed, range, or firepower.
Maybe it was just a simpler time, when all one had was their Arrowstorm and the second amendment to keep from becoming a Nerf P.O.W.


Things have changed since 9-11, but thanks to people like YouTube user uin13 we can rest assured knowing that good old-fashioned American ingenuity will help maintain our technological edge against the twisted minds of terrorists and older brothers alike. In the following MagStrike Mod, he walks us through how to double your clip capacity without pumping in between. Terrorists hate freedom, but they really really hate foam darts.


Maybe not the most professional How-To, but almost better this way, to share in the discovery, frustration and "fuck it – just use duct tape" attitude that come up in any taking-things-apart session.

More options in the Mods section of Nerf Haven.


This bout of nostalgia is brought to you by "May is National Make a F***ING Post Month" and the fact that I just graduated from college.