Government shutdown can happen anytime, anywhere, to anyone. Are you prepared?
With the Government Shutdown Preparedness Kit (G.S.P.K.), you can be!!!1!
What does the G.S.P.K. look like I hear you asking? Simple! It looks like this:
The Government Shutdown Preparedness Kit comes with:
5 Biggerish CLOSED
10 Less than Biggerish CLOSED
13 Less than Less than Biggerish CLOSED
13 Smallish Polite!
3 Bigger than Smallish Polite!
Nearly* everything you need to be prepared for a government shutdown!
With the G.S.P.K. you will be prepared on the streets:
Do you travel by public transit? No problem! With the G.S.P.K. you'll be prepared on the metro!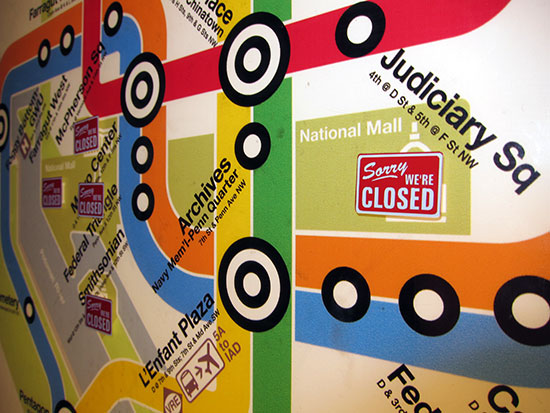 *competent government not included
USA USB How To Guide up on Instructables. For more info and images peep the project page here: ni9e.com/usa-usb.php
PC = Patriotic Computer.
(via ni9e blog)