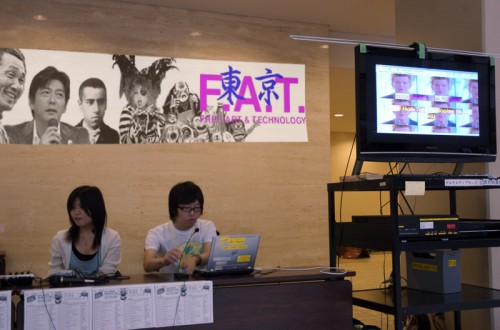 Our FFFFFellows over at FAT Lab Tokyo recently did some FM-broadcasting during the Cultural Typhoon Conference.
Yusuke Sugano, Seiji Ueoka and Chihiro Suga presented the Free Media Research Lab , talked about FATness, and interviewed Evan-San and Tobi-San.
Here are the two broadcasts (mp3):

Audio clip: Adobe Flash Player (version 9 or above) is required to play this audio clip. Download the latest version here. You also need to have JavaScript enabled in your browser.
Audio clip: Adobe Flash Player (version 9 or above) is required to play this audio clip. Download the latest version here. You also need to have JavaScript enabled in your browser.
Some FFFFFlicks: http://freemedia.researchlab.jp/fuckflickr/cultural-typhoon/page/all/
the original post on http://tokyo.fffff.at/events/fat-fmrr/ (Japanese)
…and the Email Interview with Evan-San:
Could you give us a brief introduction of yourself?
Evan: I am an American artist currently living in Hong Kong. Most of my work be it on the web or on the streets tends to involve the overlap of free culture and popular culture. Three years ago I co-founded the Graffiti Research Lab with James Powderly during a fellowship at the Eyebeam OpenLab, and since then James and I have also co-founded the F.A.T. Lab.
How did F.A.T. lab start?
Evan: F.A.T. lab started almost 2 years ago
We F.A.T. freaks in Tokyo got together to hack Japan with "Free Art & Technology"!
At tokyo.fffff.at, we will be showing Japanese translation of F.A.T. posts, reporting of F.A.T. related applications, and our own reports of free-art development.
Check out the members of Tokyo F.A.T. here. The people section of fffff.at has been translated into Japanese, too!

charactors from the left, Genpei Akasegawa, Taishu Kase, Minakata Kumagusu, Vivienne Sato and Japanese Yokai.