Noisy Typer is a free piece of software which plays typewriter sounds as you type. It runs in the background and works with all applications ( email, web, word etc ). Key sounds include: letter keys, spacebar, backspace, carriage return and scroll up and down.
Noisy Typer is a FAT Lab speed project by Theo Watson.
Download NoisyTyper.app here ( currently OS X only ):
NoisyTyper-v001.zip
OS X 10.9 Note: Noisy Typer still works with 10.9 but you need to enable the app to have access to the key press information. See this link for info. support.apple.com/kb/HT6026
The software is open source and made with openFrameworks version 0071.
You can download the source code here: NoisyTyperProject.zip
Icon from CC Flickr photo.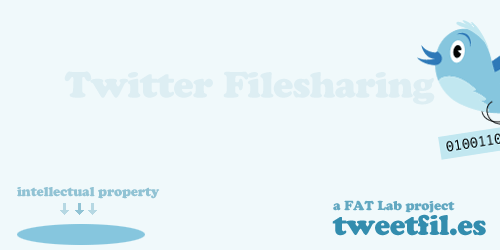 Updated 12/12/2010: Support added for tweeting files in Base64 encoded and plain text methods!
The F.A.T. Lab crew have begun the Twitter seeding – with movies, images, code, and other items of copyright or intellectual property. We've started with code, music, and movies… but we need your help to seed more files to Twitter!
So why is filesharing on Twitter important to FAT Lab? Governments and private organizations continue to lock down legitimate file sharing through raids, law suits, and "consumer protection" laws & treaties. And while larger file sharing arenas are targeted, many forget file sharing has existed across many different mediums for decades. Early filesharing beginning with Usenet groups, where the binary data was converted to text characters and reprocessed for download. Facsimile machines follow a similar method of dissemination of binary data. And even ham radio used teletype to transmit photos across long distances by converting photos to ASCII before transmission.
If Twitter is today's Usenet and Usenet was used for file sharing years ago, why shouldn't Twitter be utilized today for file sharing?
Download the code and start seeding your files to Twitter!
A project by Greg Leuch and Theo Watson.