This is the last post of the F.A.T. garage sales week. We kicked out tons of super hot, unreleased works and projects. (Borna! I missed your jackets, I want one!)
And here comes a final highlight! Last year I curated the program for the category Digital Communities at Ars Electronica 2010. The whole thing was called TELE-INTERNET and a mix of talks, workshops, lab, hacker space and performances. We also had a night program at Roter Krebs (which is definately the best party place in Linz!!). Looking back this night was very special and became one of my personal highlights in F.A.T. history !! (…besides the TM fake G-car :) Finally I managed to get it documented! Enjoy!!
ARAM
[VIDEO links: TELE-INTERNET, evan-roth.com/cream, tortureclassics.com and Theo's awesome mixes ]

Cache Rules Everything Around Me is my entire animated gif collection played in ten minutes and set to Girl Talk's NightRipper. Best viewed fullscreen, loud and in da club.
Created using Animated Gif Mashup for Aram Bartholl's TELE-INTERNET (ARS Electonica Digital Communities 2010).
"TELE-INTERNET is an organically growing structure, a hacker space, an (un)conference, a stage, an exhibition,  a social performance, Commune 0/1, and a site for anyone who's  interested in discussing the development of the internet, exchanging  ideas, and presenting their own projects. Ars Electronica festivalgoers are invited to take the plunge and join the fun, to contribute to the  discussion, or to chill out on the couch with a clubmate and a notebook."
curated by Aram Bartholl , 2010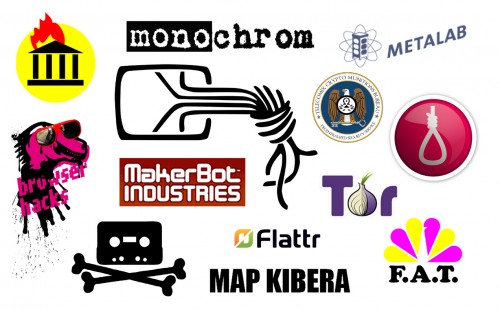 This  event will take place at the media art festival Ars Electronica, Linz, Austria, 2nd-6th of September 2010. TELE-INTERNET represents the Prix Ars Electronica category 'Digital Communities' of which the CCC – Chaos Computer Club won the 1st prize Golden Nica 2010. (btw, some strange project won the Golden Nica in interactive art, … uh what was it again? … something like ass-writer? , or similar?  … ;-) The TELE-INTERNET program includes talks, presentations, discussions, panels, work in progress, projects, pop, performance, meetings, art, workshops, screenings and much more. Get full info on the program and on all participants at bit.ly/teleinternet and follow us on http://twitter.com/teleinternet #teleinternet
OPEN CALL: If you happen to be at Ars in September and you were interested to give a lightning talk or to squad a table with your project please get in touch with the TELE-INTERNET team.
---
TELE-INTERNET
curated by
Aram Bartholl

at
Ars Electronica,
Linz, Austria
, 2nd-6th of September 2010
Participants: