Graffiti Analysis is now available pocket sized for everyday use with the release of the iPhone edition: DustTag v1.0!
DustTag is an iPhone application designed for graffiti writers that visualizes the motion involved in the creation of a tag. Motion data is recorded, analyzed and archived in a free and open database, 000000book.com, where writers can share 3-D animated representations of their hand styles. Features include: line thickness based on speed, tags rendered in 3-D based on time, rotating the phone rotates the tag in 3-D, and much more!
Download source code (OpenFrameworks)
Graffiti Analysis: DustTag was created by Chris Sugrue and Evan Roth in OpenFramewerkz.
Note: The current version of DustTag is available for 3.1.2, but will shortly be updated for compatibility with 3.0 and higher.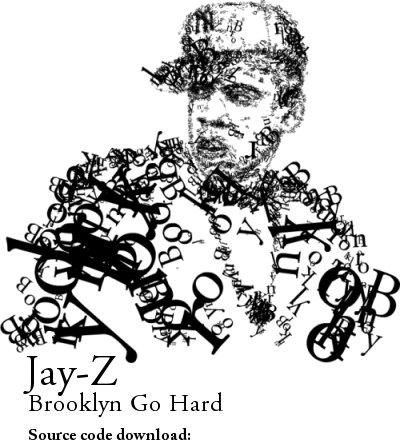 Last week I was contacted to make a video for a new Kanye West produced Jay-Z song for RED & the Global Fund to Fight AIDS in Africa. It launched today (World AIDS Day) at red.msn.com. And while I'm happy to be able to help the cause I'm also more than a little bit excited about getting a chance to make something for the likes of Jay-Z and Kanye. I've been turning down client requests to use Typographic Illustration for 5 years in hopes that one day the phone would ring and it would be Hova. The video can be seen on (RED) WIRE, or at this direct link on MSN video (I will update with an embed-able video shortly). I'm pretty sure that this is the first rap video to end with a download source code link.
Brooklyn Go Hard: brought to you by Jay-Z, Kanye West, Evan Roth, and Garamond.
***UPDATE***
Just posted by Jigga:
Source code:
http://evan-roth.com/jay-z
(Thanks a lot to Michael @ Modernista for the connect.)
A count down to when the intelectual property of Christopher George Latore Wallace (aka The Notorious B.I.G.) will enter the public domain.
To download source code (Processing) click here