Exclusive, one-of-a-kind Shaved Bieber VIP 3D Movie Pass, available for a limited time. Be a part of history, and never say never to a once-in-a-lifetime piece of art and cinematic extravagance.
This is a valid ticket VIP ticket for the 3D movie for Wednesday, Feb 9 at 6:00pm, Union Square, New York, NY, and includes "shaved" ticket, "shaved" badge, "shaved" 3D glasses, "shaved" glowstick, bracelet and other goodies.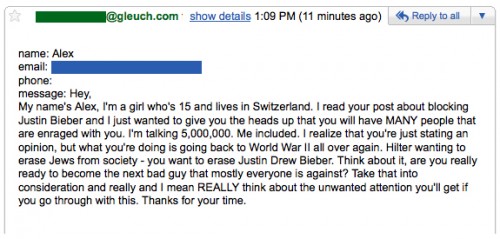 As the Belieber fan mailz rolls in, you can see this and more of the highlights of my inbox and Twitter stream at http://shavedbieber.tumblr.com.