Upgrade? Downgrade? How about 5th Grade? Rogue F.A.T. Lab intern, Maddy Varner, offers this nostalgic OSX Yosemite patch to restore your system font to the classic Comic Sans. Maddy writes:
i recently upgraded from mavericks to yosemite & needless to say i was SHOCKED by the new ui changes, specifically the shift away from Lucida Grande to Helvetica Neue. like most people, i am frightened and scared by change, especially from the interfaces i use daily. i am so opposed to change, i have used my extensive "1337 haxx0r" training from middle school to create a specially-flagged font set that will change your system font to that of the popular and beloved, "Comic Sans":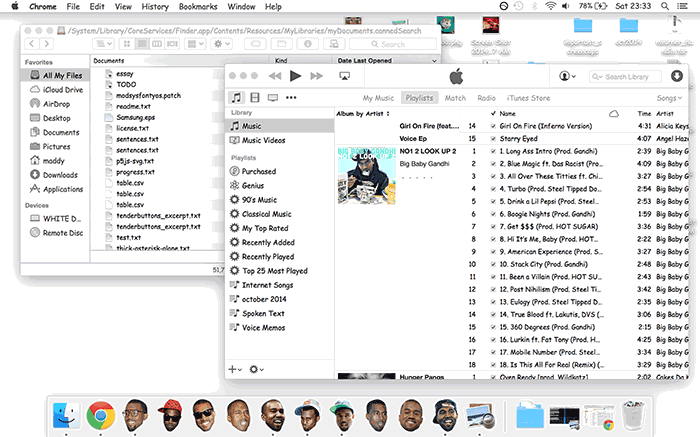 ~*~*~*~DIRECTIONS YO~*~*~*~*~
to install simply unzip yosemite_sans.zip & drop the contents in your /Library/Fonts folder. log out & back in for the changes to take effect. (sometimes after the first install the font on the login screen will look a lil weird, it's temporary & will go back to normal for subsequent logins.) to uninstall, just remove the fonts from the /Library/Fonts folder. no admin privileges should b necessary, & no system preferences r being changed.
I, like many of my generation, spent a fair percentage of my youth firing foam darts at my older brother . We used to throw our Ninja Turtles against the wall until they broke and then re-arrange the body parts, but somehow we never thought to take apart our NERF guns to enhance their speed, range, or firepower.
Maybe it was just a simpler time, when all one had was their Arrowstorm and the second amendment to keep from becoming a Nerf P.O.W.


Things have changed since 9-11, but thanks to people like YouTube user uin13 we can rest assured knowing that good old-fashioned American ingenuity will help maintain our technological edge against the twisted minds of terrorists and older brothers alike. In the following MagStrike Mod, he walks us through how to double your clip capacity without pumping in between. Terrorists hate freedom, but they really really hate foam darts.


Maybe not the most professional How-To, but almost better this way, to share in the discovery, frustration and "fuck it – just use duct tape" attitude that come up in any taking-things-apart session.

More options in the Mods section of Nerf Haven.


This bout of nostalgia is brought to you by "May is National Make a F***ING Post Month" and the fact that I just graduated from college.