J3DILLA will be presented at Flossie 2013: women and software libre, this week in London.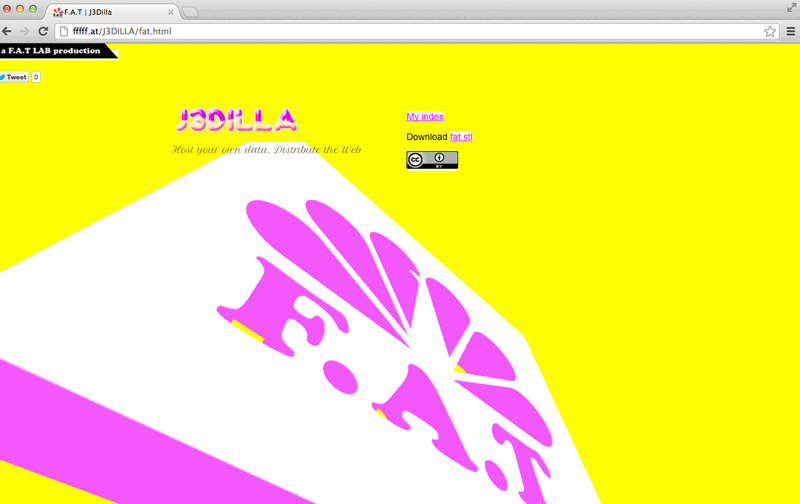 Flossie 2013 brings together FLOSS women developers, entrepreneurs, researchers and policy-makers, digital artists and social innovators for an exciting mix of talks, spontaneous discussions and open workshops. Flossie 2013 brings the benefits of open thinking to artist and entrepreneurs and the insights of diverse innovators to FLOSS development.
Opening (for one night only): 12 June 2012, 4.30–9.00pm
Living Space Internet Café
1 Coral Street
London SE1 7BE
Public Access is an exhibition of Internet-based works by a group of artists originating from the Americas. The exhibition is presented as a 'Speed Show', which has become popular exhibition format in the US, but is the first of its kind in the UK. Conceived by artist Aram Bartholl in 2010, a speed show entails creating a gallery private view for browser based Internet art in a public cyber-café for one night. The exhibition format is free and can be applied by anyone, anywhere, any time.
Artists:
Eduardo Navas
Jon Rafman
Parker Ito
Double Happiness
Geraldine Juárez
River of the Net
Natalie Bookchin
Kristin Lucas
Caleb Larsen
Gustavo Romano
B.Troemel and J.Vingiano
With contributions of: Kenneth Goldsmith, Marialaura Ghidini, Marc Garrett
Curated by Rachel Falconer, Ruth Hogan, Augustina Matuseviciute and Youna Shin from the Curating Contemporary Art programme at the Royal College of Art.
F.A.T. LAB U.K.anye from james powderly on Vimeo.
FREE ART & TECHNOLOGY TRANSPORTATION.
FAT LAB JUST LANDED IN LONDON TOWN AND WE'RE ALREADY #1 IN THE U.K.! BUT HOW IS OUR P-COAT GONNA BE SPOKE THAT WE AINT BROKE WITH ALL THESE RUBBISH PUBLIC TRANSPORTATION FARES? I GOT AN IDEA, LET'S THROW SOME "FREES" ON THAT DOUBLE DECKER FAT BUS!
Audio clip: Adobe Flash Player (version 9 or above) is required to play this audio clip. Download the latest version here. You also need to have JavaScript enabled in your browser.
THIS 1-SECOND MP3 TO YOUR MOBILE PHONE AND PLAY (DONT PAY) THE TICKET TO HELP GOD SAVE THE QUID.
Audio clip: Adobe Flash Player (version 9 or above) is required to play this audio clip. Download the latest version here. You also need to have JavaScript enabled in your browser.
Audio clip: Adobe Flash Player (version 9 or above) is required to play this audio clip. Download the latest version here. You also need to have JavaScript enabled in your browser.
AUDIO EDITED IN AUDACITY. CAMERA WORK AND KIT BY JIHOI LEE.