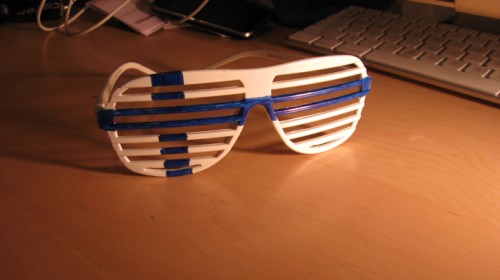 What happens when have an urge to make something quickly, but only have a few items on your desk? Take a pair of white shutter shades, an indigo blue Prismacolor Premier color marker, do some coloring, and… done! "Imma Let You Finnish" Shutter Shades.
(And c'mon… Kanye can also do better and get himself a nice Finnish girlfriend.)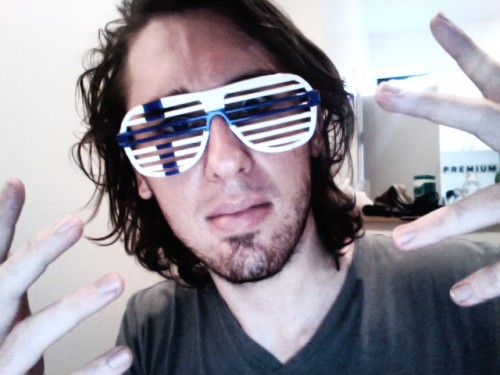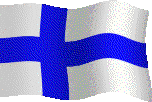 (i'm on an editing boat!)
KANYE DID IT AGAIN! YEEZY TOOK HIS RANTS REAL-TIME!

SO BEFORE IMMA GET INTERRUPTED, IMMA PRESENT YA WITH THE KANYE WEST INTERRUPT BOOKMARKLET
DRAG THE BUTTON ABOVE TO UR BOOKMARK BAR (OR RIGHT-CLICK AND 'BOOKMARK/FAVORITE')…….. THEN CLICK IT TO MAKE YOUR WEB PAGE YEEZY INTERRUPTED.
AN EXAMPLE FOR THE FANS & HATERS……..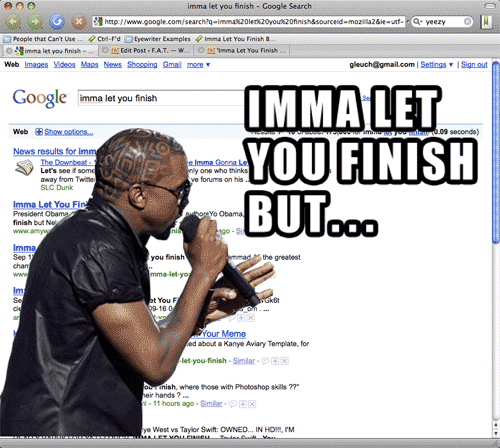 Idea by Greg Leuch, based on Tobi Leingruber's Kanye Vision bookmarklet. Speed Project: 20 minutes
KANCEPT EVAN ROTH, KODE TOBIAS LEINGRUBER
VIEW THE INTERNET THE WAY KANYE SEES IT.
DRAG 'N' DROP THIS BUTTON INTO YOUR TOOL BAR TO GET KANYE VISION!!!!!!!!!!
SCREENCAST: HOW-TO ADD KANYE VISION