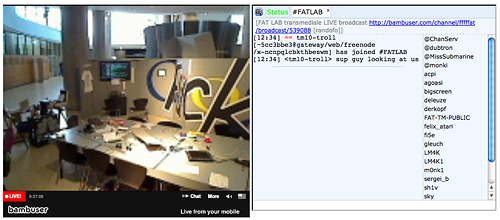 One of the biggest ways we communicate with other fellows at F.A.T. is through IRC chat. And while some of our fellows could not make it to Berlin for transmediale.10, we set up two large screen panels with our IRC chat room visible to gallery members. But this is not fair for our fellows, since there is no way to communicate with the people watching them in IRC. So we attached a webcam to one of the computers. The results have allowed our absent fellows to troll visitors from afar, with humorous results.
Now you too can check out the action: See the cam and the chatroom!

  __      _     _      _    
 / _|__ _| |_  | |__ _| |__ 
|  _/ _` |  _| | / _` | '_ \
|_| \__,_|\__| |_\__,_|_.__/ 

I have recently constructed the first Fatbot to do our bidding. If you say one of several keywords in the #FATLAB IRC channel the fatbot will look up some information for you.
Fatbot currently responds to:
* !meme — auto-generate an internet catchphrase from Automeme API
* !swineflu — print latest stats from the CDC.
Ex. 1:


<jamiew> !swineflu
<fatbot> U.S. Human Cases of H1N1 Flu Infection: 
         226 cases,  1 death -- http://www.cdc.gov/h1n1flu/
<jamiew> !meme
<fatbot> YOU HAVE NO CHANCE TO GET LAID, MAKE YOUR TIME


fatbot was made with ruby & isaac.