It ain't "public" space unless you have a right to hack. Let me introduce a series of greasemonkey scripts that turn Google into your free playground…
Following a great classic work by ZEVS, this script makes all Google logos (including holiday doodles!) "dripping" during your daily surfing.
I know, you even wanna draw "fuck" on Google logos. This script makes it possible. All strokes "drip" of course, and you can change stroke colors by pressing number keys.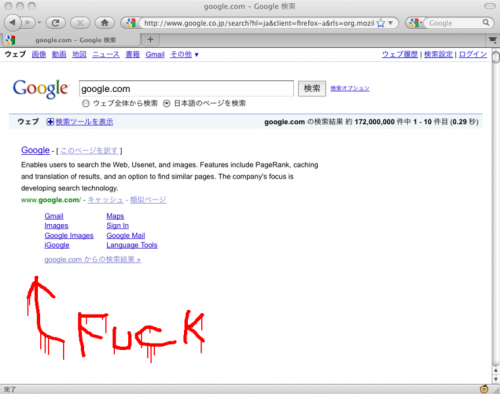 You need a larger wall? Then this lets you draw tags on search results! Remove results you don't need by double-clicking them and make your own wall to draw.
Also here's another prototype script I made before, try and see the result!
All codes are in public domain, written by ysugano from Tokyo F.A.T.
In the beginning, Borna curated himself into the New Museum
Tobi-x responded w/ the Anti-Bornsky, a Greasemonkey which locks a browser to a select list of websites, to be used on the kiosks in the new show at Eyebeam…
thx to yatta for the video. Now rockin' it up on the new F.A.T. Channel on Vimeo.