2009: Year of the FAT from james powderly on Vimeo.
In February 2010, the most renowned curators and critics in the world nominated the best 100 designs of the previous year for the Design Museum London's Design of the Year Show. Amongst the fancy chairs, fabric sports cars and dresses for chubbers, 3 projects by FAT fellows were nominated in the category of Interactive Art: openFrameworks, Graffiti Taxonomy, and the EyeWriter. 100 designs were honored… but only one can win… probably gonna be that dead fashion designer…
So, like Babe Ruth, I'm calling my shot: The FAT Lab is gonna win the Interactive Art Category. Im so certain of it, that i am making a challenge to Jeff Bezos, CEO of Amazon. If the F.A.T Lab wins, I will wear a red toupee for 3 months. If Amazon's Kindle 2 wins, Bezos will have to wear the rug for a mere 30 days. If neither of us wins, we both do. C'mon Bezos, you know my number… let's do dis! Usman, Eno, Jason, you want a piece of this action? In the words of another notorious loser, "Bring it on!"
If you're in London (i feel sorry for you…), head down to the Museum to check out the show and tune-in to the Culture Show on BBC2 London on March 4th at 19:00 GMT for the results and may the best looking head win! And Tivo that shit, cuz I aint got a TV.
Congrats to Zach, Theo, Chris, Evan, Mick, Tony and the rest of the FAT crew for a great year. LYLAS!
In 2004 I released a project called Graffiti Taxonomy and since then I have been receiving regular email requests to make prints and posters. I have recently revisited the project and am now releasing my first ever series of limited edition signed and numbered prints. The Lower East Side 'E' was created from tags photographed in March of 2008. It is the first in an ongoing series of graffiti character studies titled 'A,E,I,O,U'. The prints were made by master printers right here in Brooklyn and can be purchased at the new ni9e store.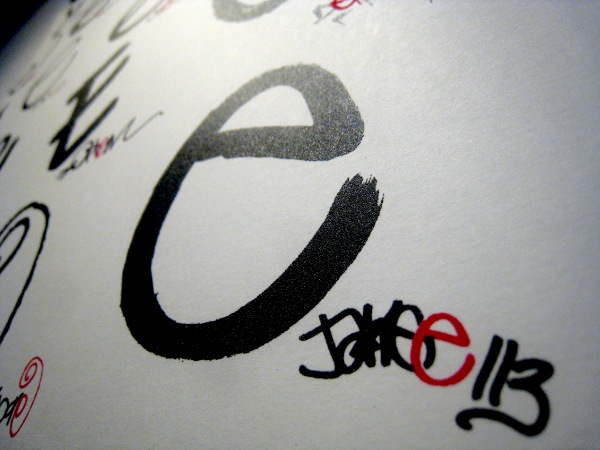 (More photos up here).
The original project is archived here.