git-friendly is a collection of shell scripts for automating common git actions: push, pull, branch, merge. I got tired of typing 3 or 4 commands to do such basic stuff, and now my life is awesome.
`push` also copies a GitHub compare URL to your clipboard for easy pasting (!)
`pull` will run commands like "bundle install" or "npm install" after finishing
`branch` will track remote branches if available
relevant commands stash & pop local changes as needed
less time fighting git = more time actually doing work
Check out the code and docs on GitHub
To install, just copy/paste: bash < <( curl https://github.com/jamiew/git-friendly/raw/master/install.sh)
Now get back to work: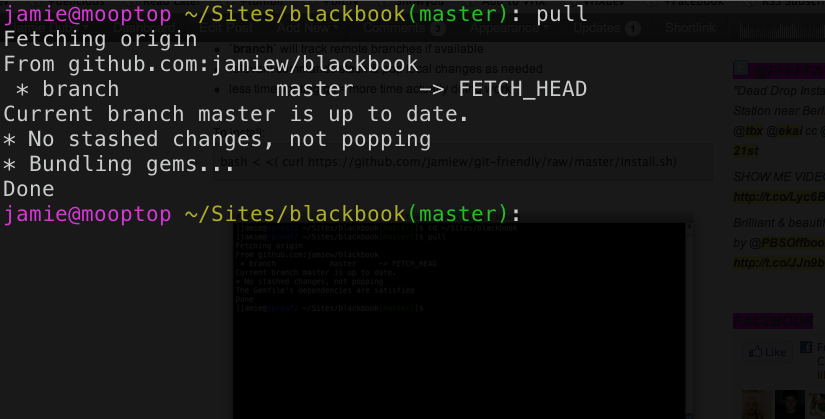 Just listen to what everyone is saying!
"Amazeballs." --@paul_irish
"Don't let git PUSH you around. git git friendly!" --Max Salzberg, Diaspora*
"I am putting the fucking 'technology' back in Free Art & Technology" --yours truly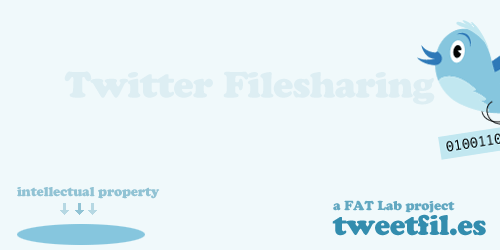 Updated 12/12/2010: Support added for tweeting files in Base64 encoded and plain text methods!
The F.A.T. Lab crew have begun the Twitter seeding – with movies, images, code, and other items of copyright or intellectual property. We've started with code, music, and movies… but we need your help to seed more files to Twitter!
So why is filesharing on Twitter important to FAT Lab? Governments and private organizations continue to lock down legitimate file sharing through raids, law suits, and "consumer protection" laws & treaties. And while larger file sharing arenas are targeted, many forget file sharing has existed across many different mediums for decades. Early filesharing beginning with Usenet groups, where the binary data was converted to text characters and reprocessed for download. Facsimile machines follow a similar method of dissemination of binary data. And even ham radio used teletype to transmit photos across long distances by converting photos to ASCII before transmission.
If Twitter is today's Usenet and Usenet was used for file sharing years ago, why shouldn't Twitter be utilized today for file sharing?
Download the code and start seeding your files to Twitter!
A project by Greg Leuch and Theo Watson.