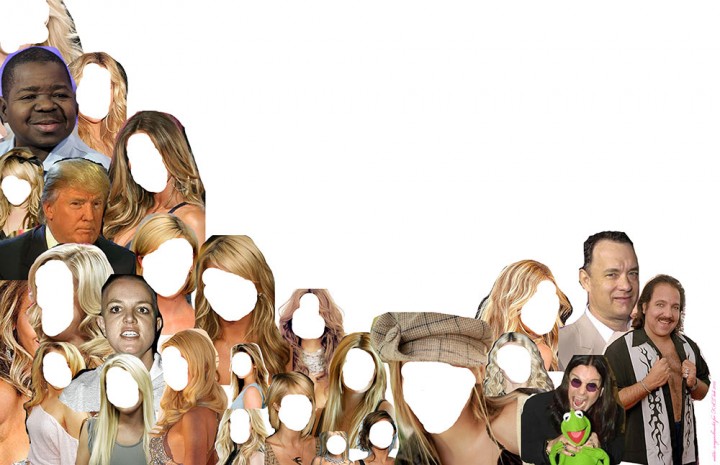 google image search results for celebrity.  what we found: the same copy of a copy of a copy of a manufactured ideal. Badly colored blonde number 40, fake and bake, size 2 or 0, medium length hair with too much product. A crazy white bitch. A copy of a copy of a copy of the same blonde, nothing really different, never aging always 20 something replacing the 30 something, and then a few creepy middle aged white men hanging around the edges, we salute you.
Print Number 2 of Limited Editions of Unlimited.
Limited Editions of Unlimited is a F.A.T. artwork series which will be released and available online for free. Download and print the second in the series here or see Print Number 1 here.
Then what..? Put it on your walls, on buildings, hang it up in the MoMa, give to your friends, your Grandma, lick it, eat it (maybe it taste good?)…. we want to see us everywhere.
Rock Star Artist or nOOb fresh out of art school and your art is wack, losing its viral flav' because people don't want any IP popos chasing them down while remixin it?  Ok.. cool. Let me help you.
HOW TO: Licenses your Artz:
Step 1: Make dope art
Step 2: Pick a License for your new dope art and download your Liscense icons here
Step 3: Put your newly FAT Licen$ed art up on Twitter and Everywhere else
Step 4: Your art has total cred. "New Media Curators" will be impressed by your mad crazy art makin skillZ!!!!
FOR EXAMPLE: I'mma Let You Finish ok but here's how it works– lets say you wantta make art that gets you mad cred, but not for big companies,. but say ShareAlike so everyone all over this small small world after all can be remixin' it?
BAMMMMMMM:

but yeah, we know what's coming,
Possible Example Question from your lawyer:
Dear Fat Lab, What's the Fine Print?
Because we know you bitches like to read, we got ALL of that up in here for you…