In September FAT participated at "Meeting Hub", a hacker's festival arranged by Platform4. Platform4 is a non-profit art and technology organisation which runs a gigantic open-space in Aalborg, Denmark. Defnetly check it out when visiting Denmark!
The following projects were created with the help of Platform 4: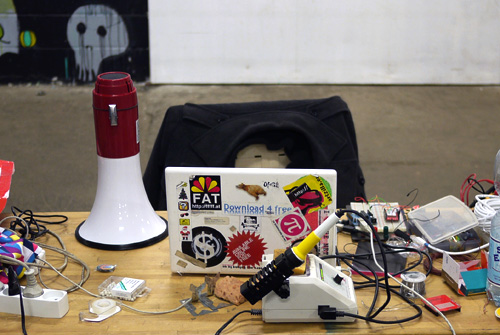 Geraldine Juárez tinkered a little mobile device – the FAT CRIER – to amplify information gathered from Twitter trough a megaphone so it can be brought it to the streets. The original FAT CRIER is a commissioned piece created for PLATFORM4 and will be installed on their warehouse for everyone to use. A second workshop is coming-up on the 22nd of October!!
Evan Roth created "Multi Finger Touch Paintings" "Paintings created by performing routine tasks on multi-touch hand held computing devices."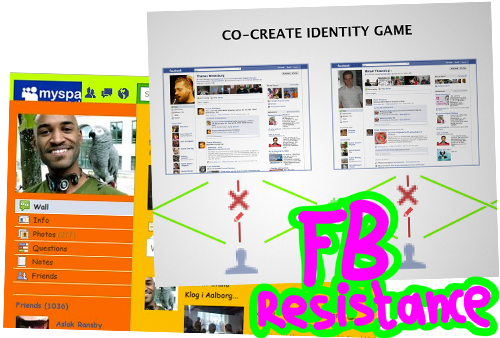 Tobias Leingruber held a
FB Resistance workshop*, and the results can be seen in the FB Resistance Artists Facebook Group (Resistance from within the system!! ;))

*FB Resistance is research initiative accepting the status quo of Facebook being the dominant social identity management system, researching on the ways to change its rules and functionality from inside the system. More about FB Resistance

More: View @tbx's photos or @fi5e's Photos or read Chris Villum's afterthoughts here

F.A.T. members, collaborators and friends will be all up in wine country this week. Street artist Mark Jenkins is guest curating an interactive design festival, Les Grandes Traversees, taking place this week and next in three cities on the west coast of France. The festival highlights work from designers, street artists and new media artists that directly interacts with the city. Chris Sugrue and I will be premiering the new Graffiti Analysis 3.0 (coming soon to a browser near you) and collaborating with DJ Rupture on GA3.0's new audio input functionality. I will also be showing a new 3D printed sculpture of a tag by L'Atlas and Chris will be showing Delicate Boundaries. Theo Watson will be showing a new project, as well as working with Chris and me on merging Laser Tag into Graffiti Analysis, creating the ultimate software for graffiti writers (more on that soon). Theo, Chris and I will also demo the EyeWriter. Other friends of F.A.T. in attendance include Mark Jenkins (who will be showing new work), Improv Everywhere, Paul Notzold (who will be premiering a new project) and Benjamin Gaulon (who will be blasting TEMPT1 tags in paint balls). See below for a complete list of artists.
If you are in France this week come join us….we'll be in Royan (July 2-4), Soulac (July 6-7) and Bordeaux (July 8-10).
For more information on the Les Grandes Traversees: Interactive Design Festival, go to lesgrandestraversees.com.
Here is a sneak peak at the new Graffiti Analysis 3.0 from a test last night in Royan:

Artists:
Mark Jenkins, Sandra Fernandez, Chris Sugrue, Aakash Nihalani, Paul Notzold, Theo Watson, Evan Roth, Charlie Todd (Improv Everywhere), Jared Gradinger, Masagon, Sydney Ogidan, Truthtag, DJ Rupture, Erell, Ruskig, Benjamin Gaulon
and Tim Conlon.
Aakash Nihalani:

Improv Everywhere:

Mark Jenkins:

Chris Sugure:

Benjamin Gaulon:

Theo Watson & Evan Roth:

Paul Notzold:

Tim Conlon: