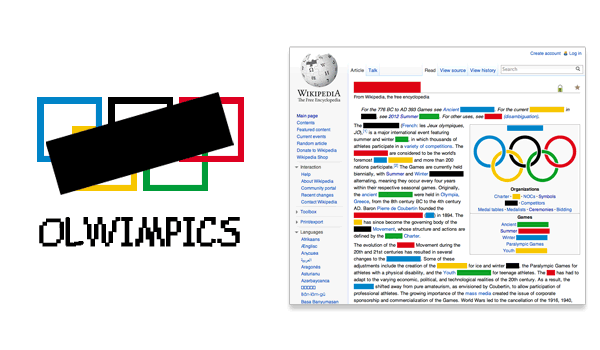 The Olympic Games are here, and with all large events, our favorite internet hangouts are filled with mentions of this event. Our netizen communities generally don't care for athletics, except that which we can do with our fingers. So download the Olwimpics browser extension for Chrome, Firefox, or Safari, and boost your self-esteem during these next few weeks.
Download for:
Downloaded over 2,500 times!

Check out the source code & respect the license: github.com/gleuch/olwimpics
Now with French, Spanish, & Czech keywords!
Speed Project: 2 hours
MADE IN CHINA




Greed powers our economy through restrictive licensing deals and claims of copyright. What enables this demand is the ability to control access or demand incentives as compensation for their work. The Internet, built without these restrictions, is being threatened to include protections for licensed and copyrighted content.
G.R.E.E.D. (Glom & Restrict Entities on Existing Domains) demonstrates how a web user's browsing experience and anonymity can be threatened through restrictions, take-downs, censorship, and monetary blackmail if such license and copyright restrictions are imposed on the Internet.
>> Try It Now <<
For Chrome, Firefox, and Safari
Part of the C.R.E.A.M. exhibition at Art Micro Patronage.
Online Artist Talk, April 24th @ 7pm EST, at Art Micro Patronage