How can I pick the best of 2009 in 2009? That's like picking the best of whatever in 2009 in August. Therefore, I am posting my XMIX 2009 on the first day of 2010. It may not be as hip-hoppy or electronic as the rest of the members, but it'll at least make y'all appreciate.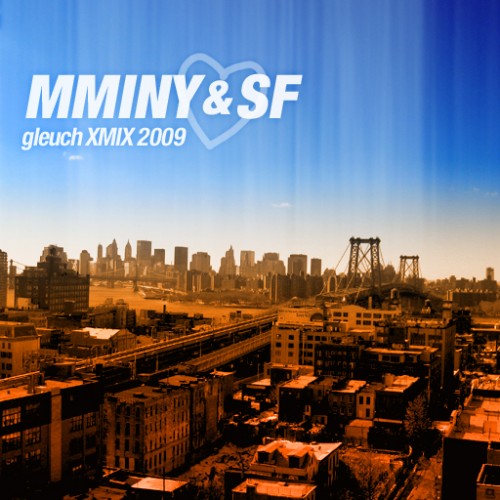 Track Listing:
01 Que Sera – Wax Tailor
02 Empire State of Mind (feat. Alicia Keys) – Jay-Z
03 When I'm Small – Phantogram
04 I'll Only Support Your Art for So Long – Ménage à Twang
05 South of Me – Weeping Tile
06 I'm Still #1 – Boogie Down Productions
07 Makin' My Moves – Chalie Boy Featuring Sticki
08 Slab Slow Rollin' – Chalie Boy Featuring Sedrick DeJuan
09 What They Playin? (Blow My High) – CunninLynguists
10 All My Love – Marco Polo f/ Jaysun – Marco Polo
11 Charley Horse – The Pine Hill Haints
12 Sentimental Journey – Sarah Harmer
13 Lodestar – Sarah Harmer
14 Ngol Jimol – Afrissippi
15 Outwork – Copperpot
Listen online (50:46):

Audio clip: Adobe Flash Player (version 9 or above) is required to play this audio clip. Download the latest version here. You also need to have JavaScript enabled in your browser.
Download .mp3 (70mb):

Audio clip: Adobe Flash Player (version 9 or above) is required to play this audio clip. Download the latest version here. You also need to have JavaScript enabled in your browser.
I've been making end of the year X-MIXs since 2004, but this is my first attempt at an actual "mix". Big thanks to DJ Prepare for the Live lessons, and to Bobby for most of the non-rap influences.
Track List:
1. Wesley Emblidge, Parks & Recreation Theme
2. Swisha House, Got It Sowed Up
3. Jadakiss
4. Dennis Brown, Your Love Is Amazing
5. Kid Cudi, Paper Planes Remix
6. Three 6 Mafia, Goldshine
7. Raekwon, About Me
8. Wiz Khalifa
9. RZA, The Samles Intro
10. Piles, Shawty
11. John Holt, Still In Chains
12. Three 6 Mafia, Long & Hard
13. Jahari Gamba, In The Meantime
14. Wiz Khalifa, Poppin Rubberbands
15. The Hood Internet, Public Enemy vs HEALTH vs Nosaj Thing
16. Jackie MIttoo, Winchester Cathedral
17. Eazy-y ft. the Game, Still Crushing
18. Vita Noctis, Hade
19. Ratatat, Dura
20. Bishop Lamont ft. Guerilla Black, Put Your Glasses Up
21. The Hood Internet, Dorrough vs Bibio
22. Kid Cudi, Man On The Moon
23. Jay-Z, Reminder
24. Andy Kaufman
Some of my favorite music from 2009. Congrats to Tracky Birthday on the birth of his new son. Thx to Evan for turning me onto Kid Cudi. Thx to my beautiful new wife Ireneface for Hooded Figures –their singer is only 10 years old!
And thx to Blakroc, who help prove my theory that all rock bands secretly wish to be the backing band for sick rappers.
Listen online:
http://fffff.at/fuckflickr/jdubs-XMIX09/
Download MP3s (86MB .zip):
http://fffff.at/2009mixes/jamie-dubs-XMIX-2009.zip
Track listing:
We Got The Internet Goin' Nuts (Sample)
Brother Ali – The Preacher
MF DOOM – That's That
Lupus – After Tears (Interlude)
Blakroc – Telling Me Things (ft. RZA)
Virtu-oso – The Truth (Action Movie)
KiD CuDi – CuDi Get
Machinedrum – Para Did
Dj Mehdi – Lucky Boy ft. Fafi
Tracky Birthday – Websiiite (with Dragan Espenschied)
Jay-Z – Off That (ft. Drake)
DJad – [J((-1×5)+2×3)](√A²)[(D3÷(9÷3)]+(L-O-L)+O= JxAxD = JAD
Virtu-oso – The Cowboy (ft. Infinite Livez)
MF DOOM – Rap Ambush
Clark – Growls Garden
Hercules and Love Affair – Blind
Tracky Birthday – Good Bye (with Roglok & Vernon)
Notorious B.I.G. vs. Miley Cyrus – Party and Bullshit (in the USA)
Virtu-oso – Missing Reels Clip
Hooded Figures – Comes A Time